The Port Tourism & Business Network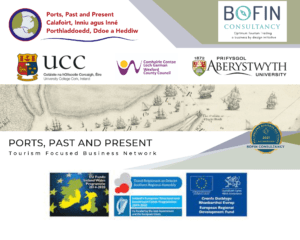 This is an all year round Tourism & Business Dedicated Network which is built for you & your Port & District communities.
Would you like to?
Connect with business across 5 ports
Diversify into new markets
Grow Revenue

Who is the Port Tourism & Business Network for?

Tourism & Port Businesses
Focused & Committed Area Business Owners
Those who rely on port traffic in some extent for business
Local Authorities in each of the regions
Sector Representative bodies in each region



A network which works with and supports you during the off season to plan, prepare, learn and be ready for the peak season.

Workshop 1 - Heritage Through the Lens
View the recording here:
We will showcase and speak about the power of heritage through the lens from the perspective of Dr. Rita Singer, a Project Co-Ordinator for the project at Aberystwyth University. 
You will learn from hints and tips on how best to utilise the fantastic Ports, Past and Present imagery and short documentary films in your business. 
Mags Boland Murphy will give you tips about how these pieces of work can be of value and used as part of a sales and marketing strategy in your port and businesses in each port district. 
Dr Rita Singer is a Project Co-Ordinator for the project at Aberystwyth University. She obtained her PhD from the Institut für Anglistik at Universität Leipzig, specialising in Cultural Studies and Literature of Victorian and Edwardian Wales. More recently, her research has focused on travel writing from continental Europe about Wales since the mid-eighteenth century and the impact of German submarine warfare on Welsh communities during the First World War. For Ports, Past and Present, she has worked with Mother Goose Films and people from around the Irish Sea to develop a series of short documentary films that highlight the heritage of the five ferry ports connected with each other in Wales and Ireland.
Mags Boland Murphy is Founder & Principal at Bofin Consultancy and is an experienced sales, business, marketing professional, she is professionally qualified in business disciplines and brings over 20 years of sector specific experience to the table in a variety of professional sectors including tourism & hospitality, media, food, construction, education, and national event management. Mags works with businesses who may be struggling with specific business challenges, with marketing or are panicking over profit–to plan, package, and promote their business to more of their ideal customers. Her no-nonsense approach helps clients to focus their passion on specific ventures and opportunities which deliver powerful growth and profitable businesses. Mags is a recognized business mentor with the LEO Network, Intertrade Ireland and Failte Ireland. 
Workshop 2 - Develop Your Story
Workshop 3 - SMART Tools & Resources to promote your port and district - Wednesday 7th December 2022 @ 10.30am
Workshop 4 - Quality Collaboration for Seasonal Growth
Workshop 5 - Social Savvy Heritage Initiative
Workshop 6 - Build Your Heritage Strategy - Engage visitors today with stories of yesterday